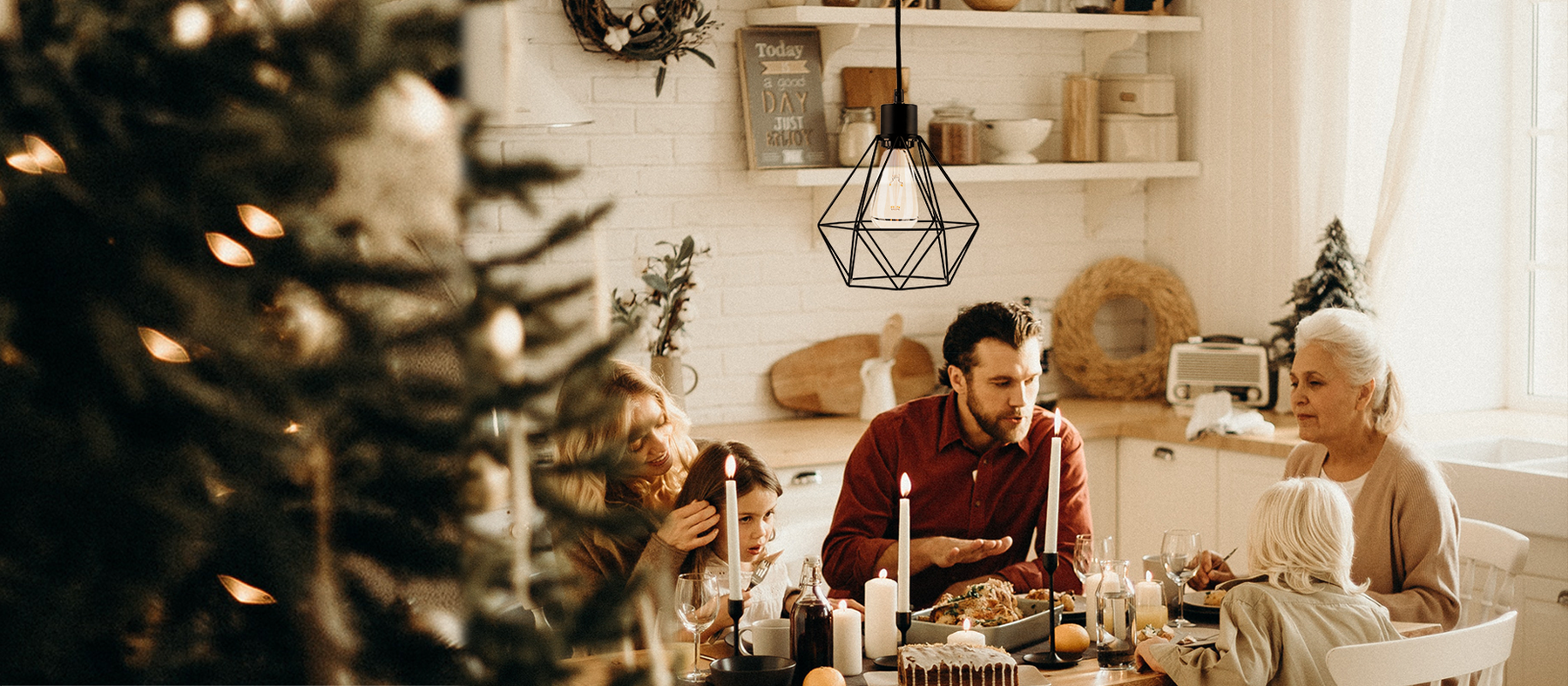 Light up your Holidays
5 tips for a bright Christmas decor!
Illuminated decorations are essential for Christmas and they contribute to the amazement of young and old all over the world!
But no need to reproduce the Rockefeller Center tree to wow the gallery to create unforgettable memories! Adding a few festive elements will enhance an existing decor. Here are some tips to enlighten you!
String lights everywhere!
Adding indoor string lights to the tree, to a pretty wreath, on the fireplace mantel, or hanging from plants will be enough to create a magical decor! Add colour with our string lights from La Case de Cousin Paul. You will want to keep them as a permanent decor item once the holidays have passed!

Hanging bulbs to create a warm atmosphere
Decorating the tree and setting a nice table helps to create a warm and welcoming atmosphere. Christmas wouldn't be so magical without the twinkling lights!
You can add pretty string lights and candles, but you can also be creative by adding hanging lights. There are plenty of options for lighting up your house. Get one of our metallic wires like our gold Plog-it or our copper Plog-it to add a little sparkling touch to the room... all year round!
A chic pendant light to share unforgettable moments
The best moments are often shared around a good meal! And it's even more true during the holidays. The dining room becomes the focal point for entertaining... You've spent hours choosing the menu, cooking, perfecting the centrepiece... Make sure that you have lighting that does your reception justice.
Choose the right height for your suspension
The ideal height for a pendant light is 30 to 36 inches above the table for a standard 8-foot ceiling. This will prevent your guests from being dazzled or block the view of people seated on one side and the other of the table. You can install your luminaire a little higher, i.e., at a height of 36 to 40 inches for ceilings of 9 feet and over.
An alternative tree!
The Christmas tree is not always the star of the party! Picking up dried thorns of a natural tree or buying an overpriced artificial tree may not be in your plans this year... In this case, we suggest creating a wall decoration in the shape of a tree with our olive green Plog-it and our Pin-it hanging system! You can reuse these accessories and recreate the shape of your choice throughout the year!
Happy Holidays!
The Plog-it team