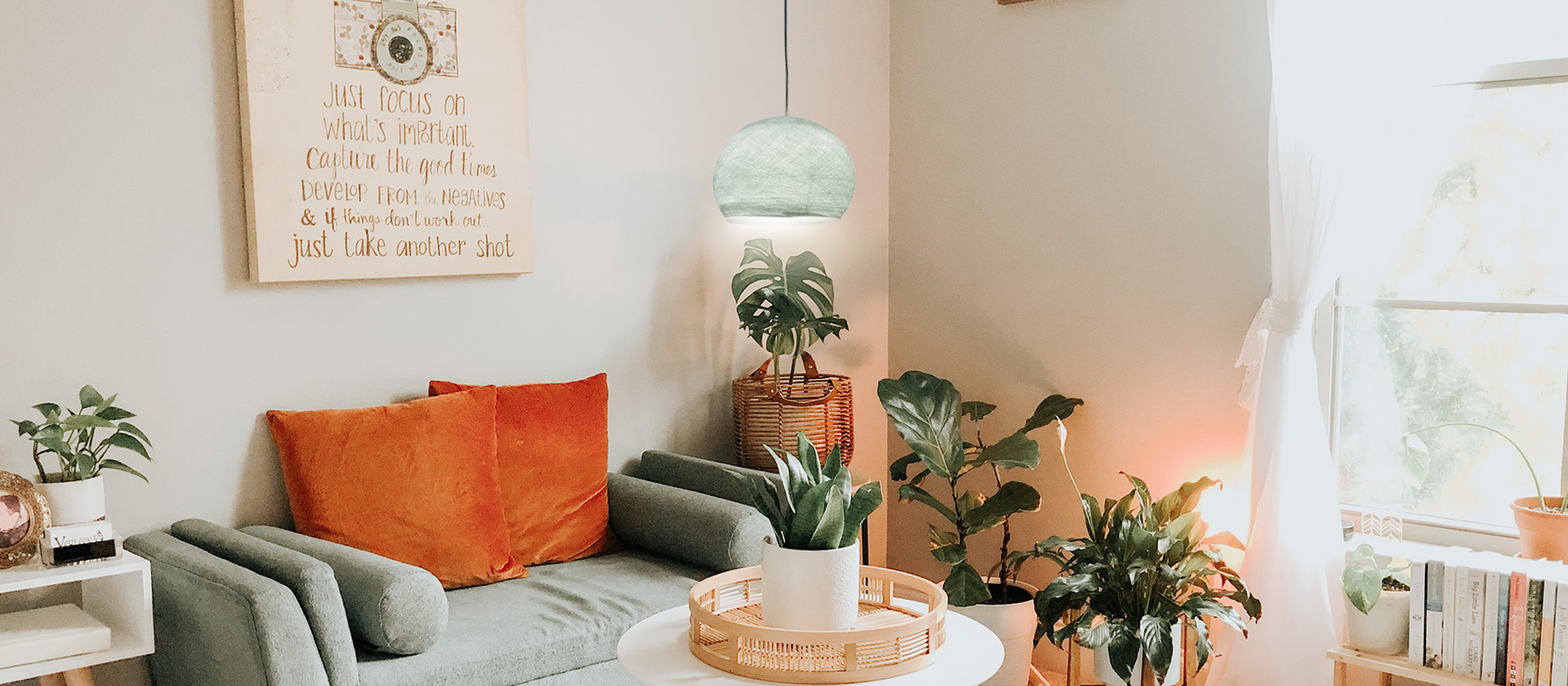 2022 trends: A passion for colour
The year2022 begins in colour! Natural materials, mineral colours and greens (grey, mint, sage) are all in the spotlight for major paint brands. While Pantone, on the other hand, offers a vibrant colour palette, which is more fashionable, to bring some joy to this ugly and gray period!
Whether you are attracted by one or the other of these trends (on our side, we like them both), there is no need to paint your living room wall to wall to adopt them. Adding a touch of colour through accessories will help assert your style and colour your interior with beauty.
A wind of freshness and dynamism
Do you want to add a breath of fresh air and optimism into your daily life? The choice of a coloured light will brighten up your days!
A purple Fix-it pendant light paired with a bare light bulb in your office. This accessory will allow you to adopt Pantone's star colour Very Peri and will certainly stimulate your creativity!
The mint green Plog-it is very easy to install with its plug-in socket. Refreshing, it will give you the energy to get through your days working from home.
With its multicoloured hand-woven polyester balls, the Tao Tong string light from La Case de Cousin Paul is such a pretty accessory to brighten up a child's room, a playroom or a reading nook.
The unanimous trend: Green
The Benjamin Moores, Behrs, Sicos and Sherwin Williams of this world, all opted for natural colour palettes with soothing colours. Moreover, these companies have all adopted pale green as their 2022 trend. A sage green that will immerse you in an oasis of peace and that will be reassuring in this time of great uncertainty.
The Azur cupola lamp shade by La Case de Cousin Paul will elevate any room. This pretty touch of green in your decor will allow you to find serenity and concentration. Because we really need while working from home.
All tastes are allowed!
In 2022,dare to brighten up your decor with colourful accessories. Whether you prefer more delicate colours or bolder objects, there are many possibilities to assert your tastes.
Maude Jetté
Cactus & Béton